The Sprint Up
…As we approached the car, one of the EMTs we had seen throughout the race stepped out and told us the best news we had heard in 2 days: this was the turnaround point, and he thought it was the last challenge as well. He asked us a very thoughtful question to bring to Johnny in order to prove we made it all the way to the turnaround, which was to ask ourselves what we could do in the next 6 months to make a lasting change in our lives, using this incredible race experience as the leverage to do something great. Johnny never shied away from his desire for us to really think about our lives, and how we want to use the potentially limited time we have. We did an about face in the middle of the road, and immediately we were charging back towards the mountain, not entirely convinced this was the last challenge and sure we wanted to get back as quickly as possible in case it wasn't . My teammates alternated the team weight until we reached the base of the mountain, at which point I took it over. Still with no trekking poles and me at the front of our ladder, Stephen marched behind me, driving his head into my pack to help force me up the mountain. Each step felt like I was climbing in quicksand, with the weight of my pack nearly toppling me backwards on multiple occasions. I wouldn't let Stephen take the weight at the halfway point like he offered; I was determined to make the full mountain ascent with the weight. This was not to be a tough guy or a badass, but because I wanted to prove to myself that I can be even stronger 48 hours into the race than I was at the start, exhaustion and fatigue be damned…
This blog is part of a series. PART 1 covers what happens before the Death Race and Day 1, while PART 2 talks about the experiece and journey on Day 2.
DAY 3 - Sunday
The Stump Dump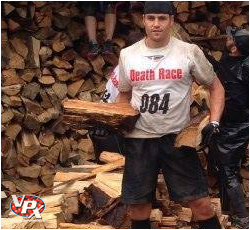 It was named the Stump Dump, as it used to be a mess of rotten stumps that Stephen and other workers had cleared over time. We had dropped a couple spots in the standings as our break at Tweed was longer than we expected, but it was necessary to fuel up and get ready for the Saturday night push. We wouldn't see light again until the race was almost over, and tonight would be the toughest test yet. It was 8 or 9 pm when we arrived at Mark's farm, and the scene was surreal- pitch black darkness with racers frantically running around doing PT or farm chores, with a roaring fire in the middle providing the only light aside from our bobbing headlamps. After stacking some long pieces of plywood, we were brought to one end of the farm which contained an obstacle course that Mark designed.

It was as simple as it was devastating. There were 15 stations in a line, a glow in the dark pole 75 yards away from the stations, and another pole 25 yards past that. Each station had one item in descending weight and size, starting with a 450 pound tractor tire, next a 150 pound concrete block, then a smaller tire, etc… all the way to a small concrete block. The challenge was simple, flip the tire or carry the item to the first pole (or the second pole for a few of the small items) and then carry or flip it back. Then move on to the next station. You must finish all 15 stations in 15 minutes. Stephen had done this course before, and his personal record was 13 minutes 30 seconds, and that was with fresh legs and not after being awake and running for 36 hours. The rule was everyone on your team needed to finish in time, or you all kept attempting it until you get four total passes.

Adding to the chaos was some basic math: There were 30+ racers, and 15 minutes per attempt equates to over 7 hours at this obstacle course, and that's just one attempt per person. With some failures it could be double that. We recognized this problem immediately and were forced to coordinate overlapping attempts, despite the fact that there was only one pole we all were carrying items towards, and a collision would count as a DQ. Mark and the two course timers were no help in structuring all the chaos. Delirious from lack of sleep and still competing with each other, we somehow managed to organize with some semblance of order, rotating in different teams at each failure or letting a team continue if someone passed.

Stephen was first from our team, and managed to beat his previous record, finishing in just over 13 minutes. I stepped up next with some basic advice from him, namely to take deep breathes during the cement block carry as you use a ton of short explosive breathes during the tire flips. The first tire was devastating, as it was essentially a 450 pound deadlift and then a push-thrust, that by my calculations of a 5 foot tire diameter, we must have flipped 90 times. I know it took me 2 minutes 30 seconds to get through the first tire, and that was one of the faster times on that station. I finished the course in a collapsed heap, somehow completing it in 12 minutes and 52 seconds. Matt followed me with a time of 13 minutes 30 seconds, and Carey, like all the other females, was forced to try hopelessly at the first tire. There was serious gender bias in this challenge. Mark told us that to get our 4th pass, two of us could split the course but that we only had 14 minutes instead of 15 to finish. Stephen and I had the freshest legs and lungs, and with me being stronger at the big tire flip and Stephen being better at the sprints, I took the first half and Stephen took the second. I managed to shave 15 seconds off my time on the large tire flip to 2:15, knowing I could run out of gas sooner, and we completed the full course in 12 minutes 20 seconds. I firmly believe I would have struggled to break 15 minutes doing this challenge on fresh legs outside of this race, which speaks to the very purpose of the Death Race in that it drags you to a terrible, awful, exhausting place, and then forces you to see how much strength and power lie within you if can force yourself to find it. Finishing that course twice in those conditions is something that will be a source of strength for me forever, and a reminder of what can be accomplished when the mind takes over the body, and "I can't" is just not an option.

With our four passes of the obstacle course complete, we began the first of four farm challenges. After each task was done, Mark would give us one of our four coveted Death Race bibs, something we had been expecting early on in the race and fighting to get for nearly two full days. The tasks were assigned based on random numbers Mark told us to pick from 1-15, and these tasks could be much easier or harder, faster or slower, depending on our luck of the draw. At this point I asked if we could use my PT score from the first morning to offset one task, when Mark reminded me "I told you to ask me first thing the next time you saw me. You forgot. So no you cannot." I knew those PT scores would be worthless, I just didn't think it would be my fault. There wasn't any time to lament my oversight, our first task required unloading four massive 10 foot walls used in Spartan Races from the back of one truck and drag them up into another truck. The second was to each throw a 100 pound cinderblock 100 times across the farm lot. The third was to do 1,000 pushups as a team. We cruised through these first three tasks, until getting hung up on our last: Move 100 buckets of sand from one end of the farm to the other.

This seemed simple, and it wasn't physically taxing, but it was a 2.5 minute walk end to end and back. That equates to over 4 hours for 100 buckets, time we did not have to spare. Creating a relay system and hurrying our asses off, we finished in 2.5 hours, twice the time all the rest of the tasks took combined. I even tried to barter with Mark with burpees to shave off some of the 100 buckets, to no avail. It was a devastating blow to us mentally and physically as we weren't taking any food or hydration through the process, in fact Carey never left her post in the relay to even take a drink. We received our fourth bib at around 4 AM, and made the tired hike, again with our 60 pound team-weight, back up to the top of the mountain to Shrek's Cabin to meet Johnny for the next challenge.

With our spirits low, our bodies starved for calories and hydration, the cold Vermont wind beat on us atop the mountain. I was the first to ascend the mountain and get instructions for the next challenge. I sat down in front of the glowing fire to stay warm, and moments later as Stephen and Carey formed a circle around the fire, we sheepishly began to throw out design ideas for Johnny's "ladder" challenge...
The Finish
…Quads twitching, trail shoe lugs digging deep into the dirt and rock, we powered through the last few steps up the final incline. As it was just past 8 am, the sun was barely climbing over the tree line and the dew of the night still glistened off the leaves. The smell of the fire was faint as it burnt itself out, and as we crested over the last hill we saw Johnny sitting in a folding chair, right leg crossed over left, taking in the morning view. He smiled calmly, and before he even got the words out, I knew we had finished. I collapsed down and shed my pack with a thud; fighting back a few tears as I let the sweat roll off my face and the warm sun wash over me. Johnny gave us one last task though…asking us once again about our lives, what we had come to know about ourselves through this journey, and he prompted us to write our own quote about life and death and what they mean to us now having been through this race. His genuine and honest effort to help us discover our purpose and meaning of living was pervasive throughout the race, and was just as much a part of the significance and achievement of the race as were any of the physical challenges he threw at us. This experience seared itself into me; and I will carry with me what I learned about myself in those 47 hours for the rest of my life. I am truly grateful for my teammates, my fellow Death Racers, and for Johnny, Mark, and the rest of the race staff team for the experience we shared together atop that mountain.
This is my quote: "Our understandable but misplaced fear of death, the fear of its finality, is what drives us to achieve true greatness and inspiration in our lives."
If you have competed in a Death Race or are considering doing a race, please share your experience/thoughts/tips in the comment section below!
---
As mentioned in part 2, these are the rest of the quotes we had to memorize throughout the race:
"Once you accept your own death, all of a sudden you're free to live. You no longer care about your reputation. You no longer care except so far as your life can be used tactically to promote a cause you believe in."
- Saul Alinsky

"When we finally know we are dying, and all other sentient beings are dying with us, we start to have a burning, almost heartbreaking sense of the fragility and preciousness of each moment and each being, and from this can grow a deep, clear, limitless compassion for all beings."
- Sogyal Rinpoche

"We say that the hour of death cannot be forecast, but when we say this we imagine that hour as placed in an obscure and distant future. It never occurs to us that it has any connection with the day already begun or that death could arrive this same afternoon, this afternoon which is so certain and which has every hour filled in advance."
- Marcel Proust

"Of all the wonders that I yet have heard,
It seems to me most strange that men should fear,
Seeing that death, a necessary end,
Will come when it will come"
- William Shakespeare (Julius Caesar)

"Almost everything--all external expectations, all pride, all fear of embarrassment or failure--these things just fall away in the face of death, leaving only what is truly important. Remembering that you are going to die is the best way I know to avoid the trap of thinking you have something to lose. You are already naked. There is no reason not to follow your heart."
- Steve Jobs
This is the conclusion to a three part series.
What is the Death Race? | In depth coverage | PART 1
What is the Death Race? | In depth coverage | PART 2
---
This is a guest post by Brian Lynch. Brian works in Wealth Management at UBS in Boston MA and has been involved in OCR since 2011. Recreation quickly turned to passion and then to obsession, and Brian now focuses his training on Ultra Distance OCR. Brian is a 2 time Worlds Toughest Mudder participant (finishing and completing 50 miles in 2012), a 2 time Spartan Ultra Beast finisher, and one of the 40 inaugural Fuego Y Agua Survival Run competitors. Brian's training focuses on body weight exercises for functional strength, high intensity circuit training for cardio and agility, and long distance trail running for endurance.