BEFORE THE RACE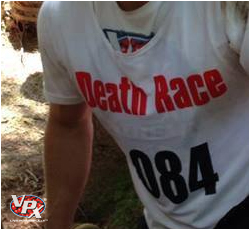 As with every Death Race, there are a variety of pre-race emails and instructions. Ours were as follows:
Email a 50 word explanation about why you signed up for the Death Race
Email your own short definition of leverage
Get to know your teammates very well in as much detail as possible about their hopes/dreams/fears
Bring the following gear to the start line:

12 foot 2"x6" lumber per person
1 plush stuffed animal at least 30" long per team
1 sewing kit per team
1 waterproof note pad per person
1 first aid kit per team
100 feet of 3/8" rope per person
1 blue barrel with a lid per team
There were also quotes in a different language at the bottom of each pre-race email that when translated said "My life is a circle", "What rises must come down", and "If we do not learn from history we are doomed to repeat it".

The Breaking Point…
As the last few hours of Sunday pre-dawn darkness enveloped us, we sat in a small circle, the orange glow of the dying fire occasionally providing just enough light to see the thousand-yard-stare in each of our eyes. I leaned forward, elbows on my knees, forehead on my palms, uselessly trying to visualize Stephen's design plan and the knots I would need to tie in order to secure it. Written on his waterproof notepad, Stephen's crude illustration of a trash barrel tied between a pair of 12 foot 2"x6"s failed to clarify anything, in particular how we would secure the pieces together. Unable to articulate my doubts, I just muttered, "Draw it again" as Stephen retraced the same scribbled lines that had already failed to provide any insight the first three times he drew them. I looked to Carey for any help in deciphering the code, and saw the same blank stare in her eyes. We were fading, hard and fast…
The Last Supper
Two and a half days earlier on Thursday night, myself, Matt Dolitsky, Carey Degon, and Shane Ellison sat at iPie Pizzeria in Killington devouring our "Last Supper". The conversation centered on the optional 6AM meeting for all Death Racers at the top of Joe's Mountain at Shrek's Cabin. With registration starting at 9AM, and the race at 11AM, the idea of arriving 3-5 hours early to a 48 hour suckfest was not particularly enticing. Despite the promise of "information about something we would be looking for twice during the race", we all decided that potentially doing 4 hours of burpees would not be a gamble we wanted to take. After all, it is the Death Race, so we hardly expected a warm welcome and a massage to kick things off.
DAY 1- Friday

Due to a last minute conflict for one team member, we were now a team of three - Matt, Carey, and I- arrived at the top of Tweed Road at around 9AM Friday morning. After a quick intro with race director Johnny Waite, we were told to go see Mark Jones a few hundred yards up one of the trails to sign our literal Death Waivers. One of us had to remain with Mark for a PT exercise test, while the others would work on the first challenge from Johnny. We left it up to fate with the flip of a Mechanix Glove, and sure enough I, the Death Race rookie, was sent to meet Mark. My nerves were red-lining at this point, unsure of what to expect and wondering if I was in over my head.

Before the PT test, though, Johnny called all the racers together for an overview of the race - the gist of it being that this would be a true race, an honest race, and that they would not be screwing with us for no reason like in years past. Previous Death Races had staff lying to racers saying they missed a challenge and were out of the race (when they in fact did not), just to see who would push on after being told they were out. Johnny explained the race was about our own minds not his deception, but that our minds would be what screws with us. This was equally as comforting as it was frightening, as we had no idea if it was true or just a bigger mind game to mess with us even further.

We are screwed…
For our stuffed animal we chose a thin snake so that it would be easy to carry and lighter when wet. We were certain we outsmarted Johnny on this one, as other teams brought massive bears and other animals that looked like carnival prizes. Our first team challenge was to slice open the stuffed animal, empty the stuffing, and fill it with rocks/sand/etc… until it weighed 60 pounds. And we would be carrying this weight with us for the entire race. "We are screwed", we said in unison.

Short of finding a Mercury deposit out here in the woods of Vermont, there was no chance that this snake could ever weigh 60 pounds. We made our way to my Jeep to unload the last of our gear, wondering if we would have to cut up our extra warm clothes to sew together with this stupid snake. That's when I realized I just happened to have the spare outside cover to my 40 pound sandbag in my truck, which was made of canvas and perfect material to sew the snake onto and fill with rocks. Carey and Matt set to work gathering rocks, while I went up to complete the PT test with Mark Jones.

My PT rep score could be used later on in the race to get us out of challenges, and Mark said the next time I see him, the first thing to do would be to ask if it was high enough. After pushups, sit-ups, burpees, bear crawls, sprints, planks, and others I have since forgotten, I felt confident in my score, but still doubted that they would ever actually matter. Even still it felt good to get the blood flowing and start pushing myself and it actually calmed my nerves a bit.

When I was done with PT, it was stuffed animal weigh-in time for the teams. We would have one chance to weigh-in, and if we were over the necessary 60 pounds we still carried the entire weight the whole race. If we were under, the team did 1,000 burpees, and then reweighed after finding more rocks. The first group climbed confidently up onto the scale, and sure enough they came in at 59 pounds. A collective groan and laughter rose from the rest of the teams, as well as last minute scrambling to find more rocks. As I would find out later, that team had a 60 pound weight vest in their car and pulled all the weights out of it. The issue? The vest itself they left behind weighed 1 pound.

After that, no one else wanted to be under weight, and sure enough, the next team weighed in at almost 90 pounds. Our team was a comfortable 65 pounds. The beauty of this Death Race is the way it made you think and strategize. Faced with 1,000 burpees and public ridicule, everyone was hell bent on being over 60 pounds. But in retrospect, 1,000 burpees can be cranked out in less than 30 minutes by a team of four, whereas an extra 30 pounds for the next 48 hours will slow you down by much more than 30 minutes. As the race progressed we learned to slow our thinking, consider the long term over the short term, and plan accordingly.

Johnny told us to strap our animal-weight to our lumber and carry it up to Shrek's cabin on any trail we could find. The spine trail was steepest but avoided a lot of switchbacks, and we were up in 15 or 20 minutes. That being said, splitting the weight between just three of us and being forced to walk in a line rather than in a square formation was brutal on our shoulders, and a distinct disadvantage early in the race.

At the top of the mountain, Johnny explained that he wanted us to really think about our lives and our purpose in life during this race. Sadly, a former Death Racer had died this past summer, and while this was a new issue for the Death Race Community to deal with, this would happen more and more as the group aged and the community grew in numbers. Despite the fact that as Death Racers, we probably "live each day to the fullest" far more than the average person, Johnny still charged us with the task of imagining our own Eulogy, what would be said about us, what we would like people to say, and how to make that a reality. We actually meditated on this for an hour before setting off on the first real lengthy challenge, which was a fantastic element to the race and really embodied Johnny's personality and passion.

Additionally, prior to each challenge we would also be given a new quote to memorize and recite at the end of that challenge, all of which focused on life and death and what they each really mean. The first quote was: "It's only when we truly know and understand that we have a limited time on earth -- and that we have no way of knowing when our time is up -- that we will begin to live each day to the fullest, as if it was the only one we had." -Elisabeth Kubler-Ross

The Realization
…With our eyelids weighing down and bodies slumped, Matt crashed into our static fire circle. It was unsettling and startling, particularly the way he stood upright while we all sat hunched over, his sudden presence disrupting the toxically lazy feng shui the three of us had created around the warmth of the fire. "The leading team just finished a 5 hour hike, and if we don't get moving now we won't finish that hike before the noon cutoff." The image was actually horrifying, our team carrying a perfectly constructed and engineered barrel/lumber structure up to Shrek's Cabin 30 minutes after the race cutoff. I shot off the rock I had been perched on, backed away from the fire, and felt the cold air rush over my skin and through my body- as much of an energy boost as the strongest caffeine shot. Staring at the fire with contempt, I realized how close it had come to ruining our race…
The Marching
With the thoughts of our own mortality and legacy fresh in our minds, plus an impromptu speech from Joe DeSena who just happened to be trail running past us at the end of our meditation, we were off on the first challenge: carrying the lumber and team weight back down the winding switchback trails to Tweed Drive, and then around the far side of the mountain and back up the steeper side. We tried a dozen strategies to take the weight off our bruising shoulders, never finding a good way to utilize the third person. Some poorly designed shoulder padding did little to soften the weight on our bony shoulder blades, and an imbalanced design caused a number of obscenity laced tirades as the weight twisted the lumber. The trail switchbacked a full 180 degrees no less than two dozen times, but with a single trail running down the middle begging you to cheat and cut the course. Even worse this center trail clearly showed us that we could have covered in 10 yards what just took us 500 yards. This was the mental grind Johnny talked about, our minds fabricating rules about fairness and how long this "should take."

When we ascended the last section of that 6 mile trail, over 3 hours had passed and I remember thinking "I would rather do anything with this lumber if it means not carrying it on my shoulder, absolutely nothing is worse than this." It took me about 20 minutes to retract that statement.

As we reached Shrek's Cabin and dropped the wood and weight, Carey recited our quote and we received instruction for the next challenge and the new quote: "Your life feels different on you, once you greet death and understand your heart's position. You wear your life like a garment from the mission bundle sale ever after -- lightly because you realize you paid nothing for it, but cherishing it because you know you won't ever come by such a bargain again." - Louise Erdrich

The next challenge was to attach our feet by any means necessary to our lumber, tie our feet to the feet of the teammate behind us, and march tethered together back the same trail we had just taken but in reverse direction. We cut our lumber into 3 sections, used the small amount of Duct Tape we had and began our march (the majority of our extra gear/food/clothing/duct tape was at Tweed Drive where the race started, at the very end of this trail when going in the reverse direction). Roughly 40 yards in, before we reached the trailhead, Matt's tape had already ripped off. This was going to be a long march.

The Death Racers now refer to it as the "Clip Clopping". All you could hear for miles was a sound like that of horses stumbling through the woods, our headlights bobbing in the distance as Friday night darkness fell upon us, with teammates stepping on their ropes, ripping tape, falling over, and swearing at each other and the world… and the team-weight… and Johnny. We swore at Johnny a lot on this one.

This is where strategy became so important, and teamwork a must. Whereas previous Team Death Races were more like racing a normal Death Race with other people on your team, in this race every challenge required coordination and planning and synchronicity with your teammates. On top of that, during the first march with the wood on our shoulders, we had the benefit of never knowing how much farther we had to go. On this march, we knew exactly how long this trail was, how many switchbacks we faced, and what we were in for. The slow grinding pace and monotony of the process was grueling, and we actually had to force ourselves to stop and take water and calories when all we wanted to do was get it over with. I think the lack of a serious physical challenge made it even harder to deal with. By the time we reached Shrek's Cabin again, over 7 hours had passed, for a pace of 0.85 miles per hour.

The Build
…K.I.S.S. Keep It Simple Stupid. That was our mantra and design premise. Matt had awoken us from our trance and we were on a mission now. We had to essentially build a ladder, with the 12 foot 2"x6"s on the sides. Only the rungs could be made out of any material. Our challenge was to march down the mountain with each of us in between rungs of the ladder and the 2"x6"s on our left and right. We would be going into town and up Lower Michigan Road until we reached a turnaround point marked by a car with flashing lights. Stephen and Carey frantically packed our bags, and Matt helped me cut rope and tie half hitch knots every few feet to make our rungs. We would not be rigid, which meant we really needed to work together to move around, but we would be flexible and fast. I had no idea at the time, but that one sentence essentially defined the theme of the entire race and what it demanded of us…
---
This is a guest post by Brian Lynch. Brian works in Wealth Management at UBS in Boston MA and has been involved in OCR since 2011. Recreation quickly turned to passion and then to obsession, and Brian now focuses his training on Ultra Distance OCR. Brian is a 2 time Worlds Toughest Mudder participant (finishing and completing 50 miles in 2012), a 2 time Spartan Ultra Beast finisher, and one of the 40 inaugural Fuego Y Agua Survival Run competitors. Brian's training focuses on body weight exercises for functional strength, high intensity circuit training for cardio and agility, and long distance trail running for endurance.