The Spartan is responsible for some very tough events. The most popular may be the Beast, but there is a Spartan race that most average athletes do not even dare to start called the Ultra Beast. The 26+ mile race through the steepest mountains in Vermont with very challenging obstacles and cold temperatures makes this an exceptionally difficult race. Most competitors who begin the race never finish, due to the strict cut off times.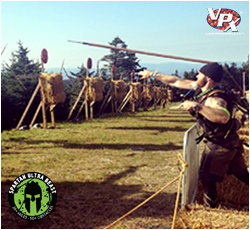 So where do I fall in the mix of stubborn endurance athletes? I have no clue. The first year I did not finish the race, which gave me an extra kick of motivation to finish this year. I spent an entire year thinking about how bad I wanted to finish the race and how it made me feel to fail just 4 miles to the finish line because of the cut off times in 2013. This year I made all the right training choices, and I give the credit to just that.
Why is training for an event like this so important? Based on the fact that only 12-20% finish the race, I think that you need to have a solid grasp on what it takes to finish.
The first thing I did was reassess my current training plan and evaluate how I could be a faster runner and increase endurance. From 2013 to 2014 I used marathon training to work on long distance pace. My goal for each long distance run over 15 miles was to have 9 minute miles at the slowest point. This pressured me into no longer just jogging but hustling when I got tired. The end result was a faster pace over all during these long runs.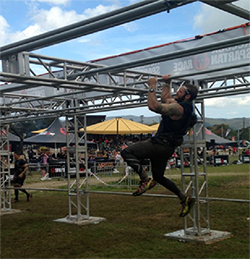 The second item I needed to work on was my nutrition during endurance training. Last year I cramped so bad it put me on the ground over 30 minutes and most likely is what cost me that finish. This year I made sure that was not going to happen and started planning when to intake electrolytes during long training. I normally would rely heavily on enduralyte tablets, VPX Amino Rush and dry food. Personally, that is what worked best for my performance.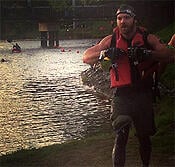 The third thing I did was reevaluate my training program. Your exercise program is a tool that should be tested, measured and reevaluated. So with an already good cardio base, I needed a strength program that would help me get up those mountains, carry heavy sand bags and give me the upper body strength to climb anything! I began incorporating an Olympic barbell work out a few times a week, along with a large amount of burpees and lunges. Lunges have made a huge difference in my ability to run up mountains. Even when I was exhausted 10 hours into the race, I don't think that the steep inclines demoralized me as much this year as they did last year.
The final thing that I think got me across the finish line was my determination. I believe a person's true character comes out at the end of the race. Even knowing that I was only half way through the Ultra Beast and being as tired as I was, I kept going. After I got close enough to the cut off times and I wasn't sure I would finish, I kept going. There was a point where I was not sure if I would make that final cut off time, but I ignored the doubt and pushed harder. During the last hours of the race, my head lamp died and I was running in the dark ignoring my own judgment to be careful because I was too stubborn to give up. There are a large amount of people out there that give up on their goal because they are not dedicated and they do not have the ability to be patient in achieving goals. The best type of gratification is not instantaneous.
If you particpated in the Ultra Beast race before share your experience in the comment section below.
OTHER RESOURCES
---

This is a guest post by Brandon Seale, a VPX sponsored athlete. He trains for Elite Spartan Races, Ultra Marathons, and various Endurance events. He enjoys training on the trails behind his home in Arlington Virginia.