What a wonderful, rewarding and equally self-gratifying sport! Along my journey, I have met a myriad of people – all sharing different reasons why they decided to embrace such a vigorous and sometimes compelling sport. I've even had to ask myself that very question. Through
it all, the sole reason that kept resurfacing was I OCR for the people - plain and simple.
Like I said; I've met various cultures of people along my OCR journey and have found this sport is comprised of some of the most friendly, generous, amazing, helpful, inspiring, brave, strong, fearless and supportive people I have ever met. At one time, a man - literally gave me the shirt off his back; because my camelbak was chafing my skin. What a generous gesture – an act of selflessness! I've also had the privilege to meet cancer survivors; single, double, and triple amputees; paraplegics, people that have lost their sight, loved ones and countless others who experienced equally tragic, life-changing circumstances. They have all inspired me and continue to do so – enabling me to love obstacle racing even more. Ultimately, I realized if they can do it, I can do it. And if I can do it, you can do it too!
Why do we race? We race because we CAN. We race because at some point in our lives, we've all realized that life is truly a precious gift and should be lived to the FULLEST. We race not just to be victorious; but more so to challenge ourselves while growing stronger both mentally and physically! The OCR team consists of individuals who have made a conscious decision to conquer life's obstacles; instead of allowing life's obstacles to be the conqueror. We stare obstacles in the face and ask "Is that all you've got to throw at me?!!"
You might also be shocked to learn that we're your everyday people – we're your secretaries, teachers, bankers, engineers and therapists; to name a few. We're people that work 40 hours a week, take care of homes, children, manage businesses etc; but unite under the OCR umbrella for the common cause. We're people who at the end of each race have accomplished something phenomenal; something no one can take away and something we will never forget. I'd like to share just a few of the people whose stories have touched my heart over the years – and continue to inspire my pledge to this unique sport.
Meet Iran Leon; a single dad, marathon winner and an unbelievable Spartan Racer living with brain cancer. Please watch this amazing video:
Another story I'd like to share is that of my friend Chris Reedy. I met Chris in May of 2013. At the time, he weighed 460 pounds. He signed up for the Spartan Sprint with his brothers - and although the course was extremely difficult, he just flat-out refused to give up! Despite how much his knees and entire body ached; with perseverance, he continued to put one foot in front of the other and continued to push forward. Today, he is very close to achieving his first weight-goal of 400 pounds; and has signed up for 5 additional races! Read about his breathtaking story here: Chris Reedy's Story. Inspiring footage of his race can be found here: Video of Chris Reedy's Story
My first friend in obstacle racing was none other than Sue Luck. I was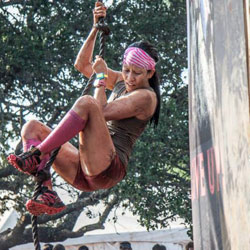 fortunate to meet her at the Spartan Race in Temecula. As I struggled up the hill, she was the voice & coach I so desperately needed – yelling at me to push forward! "Hurry up! You can do it! It's just a few more steps"! At that point I had just finished the first 30 burpees of my life and wanted to puke. If it wasn't for this tiny 100-pound girl - whooping me up the hill and encouraging me, I would've probably quit the race. Since then Sue has continued to inspire me – lending whatever help she can at my races. She is always brave and was the only woman to finish three laps of the Spartan Ultra Beast - covering 45 miles over a single weekend in Vermont. She also put on a strong face and ran the Arizona Spartan Sprint last year; the day after her father's funeral. At that race she had to dive into freezing cold water and swim across a deep river. Although this was one of her greatest fears, she overcame like a true champion and finished the race; despite the array of emotions she was experiencing with her father's passing. As she finished with tears in her eyes, she knew her father would have been happy that she was doing what she loved; and proud that somehow he had given her the strength to finish.
Matt and Family: I met Matt in Monterey this weekend. He was the last person on a grueling course and severely dehydrated. We began to talk and he told me his reason for racing! Essentially, his family had all signed up to run the race in his mother's honor. Sadly, his mother was terminally ill with Breast Cancer. Matt, his father and sister were running the race for her. Although he never ran a Spartan race before; he signed up anyways – knowing little of what to expect. He spoke proudly of his mother; and the superb athlete she was. He knew she would've been extremely proud of him and the rest of the family; considering they all sacrificed their bodies in her name. With those driving forces, he pushed through all kinds of pain to complete one of the hardest bucket-carries of his life. I'm sure his mom was watching.
Last but certainly not the least of people who have inspired me is Thomas Mills. Thomas Mills is an amputee who wholeheartedly enjoys giving back. He not only raises the much needed money for other amputees and people with disabilities; but he also brings them obstacle racing when he can! Through obstacle racing - something considered by most as extreme, he is able to successfully convey that they're life is far from over after amputation; and anything is still possible! They're met with a heart-warming welcome and covered with a blanket of support throughout their entire experience. They're also able to draw inspiration from others with similar experiences - who went on to succeed and become more than they imagined possible. Please watch this jaw-dropping story:
These stories are just the beginning; yet they all shared an underlying tone of responsibility, inspiration, bravery, trials, triumph and so much more. There are so many amazing stories and so many incredible obstacle racers that lead them. You should try obstacle racing! You WILL become a BETTER PERSON, you WILL meet some AMAZING people; and I PROMISE you will be INSPIRED.
---

This is a guest post by Corinne Rose Kohlen, a 31 year old (soon to be 32!) registered dietitian at DaVita Dialysis with a Masters Degree in Nutrition and certified diabetes educator. Her background is in rock climbing and she used to compete and work professionally as a rock climber for Sea World. She has been obstacle racing for 2.5 years and have done over 30 spartan races, 10 tough mudders and many Ultra races. Her favorite races are Survival runs. This year she will be returning to World's Toughest Mudder for the third time. Her specialties are rope climbs, traverse wall, and chicken carrying.