Greetings from the VIVO 360° Team!
First off, we would like to wish everyone a HAPPY NEW YEAR! We hope you all had a wonderful holiday season and are ready to have an even better 2013.
What a year it has been for us here at VPX! Between launching VIVO 360°, unveiling it at the Olympia, and connecting with our new customers we have been working non-stop. We are so excited to be interacting with new customers, while continuing to serve you to our best abilities and also amped to have VIVO 360° available for everyone to use.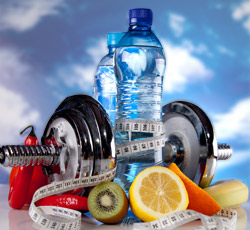 With a new year ahead, there are often new resolutions being made. Do you pledge to get in better shape, eat better, or just be healthier? If you answered yes, then we're here to help.
Now that the holidays are over, it's time to get on track, focused, and excited about achieving your goals. This means not missing your workouts and eating clean. It also means staying motivated and not letting life get in your way. Traveling, holiday shopping, and family gatherings may have disrupted your routine in the past, but now is the time to stay strong, and push through all of your obstacles! Here are just a few ways you can stay on track year-round - EVEN through holidays.
Have a plan and stick to it! Not having plan is a recipe for disaster. Whether you are traveling, taking care of your kids, or just have a crazy schedule - have a plan and stick to it. This includes planning your meals, supplements, and workout regimen.

DO NOT neglect working out, just because "you are too busy," "too tired," or "just don't want to." You may not be a bodybuilder or marathon runner - but every little thing you do counts.

Have your supplements with you at all times. There will be times when you won't have time to eat or the easiest/fastest option available is junk food. Fight the urge and set yourself up for success by packing a VPX Protein Rush RTD, or Zero Carb to meet your protein needs for the day. One scoop of Zero Carb is 20 grams of protein and comes in powder form, so it can be mixed with water and enjoyed anytime.

Do not go to a party or even grocery shopping on an empty stomach. Once you get hungry it's likely you'll want to eat everything in sight! Have a nice, clean meal before you go out. Remember, plan ahead.

Find a way to relax. Stress makes some people eat, while others will skip meals all together. Either way, it's not good. Take some time for yourself and recharge your body in the NEW YEAR!
The New Year is the best time to make changes for your healthy and new lifestyle, and stick to them. You have the power within you, and we will be here to help you achieve your goals with VIVO 360°. Make 2013 YOUR year and join the VIVOLUTION!