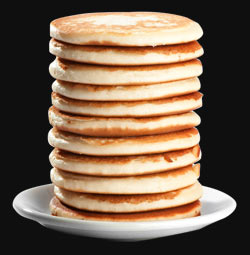 One of my favorite meals during my preparation for a contest is breakfast. I will have a serving of Cream of Rice and my VPX Syngex Protein Pancakes (try saying that 5 times fast)! It's a simple, quick, and easy recipe that's loaded with premium protein.
You will need:
4 egg whites
1 scoop of Syngex Protein
2 tsp. Splenda
1 tsp. Cinnamon
1 tsp Natural peanut butter
Mix protein and egg whites until blended and the mixture is smooth. Add Splenda and cinnamon. Pour mixture into a medium-size non-stick skillet. Spread 1 tsp of natural peanut butter on top. These healthy pancakes contain 40 grams of protein and only 10 grams of carbs - a healthy and TASTY way to start your muscle-building day!