Looking for a quick and tasty twist on your favorite Life Lift bars? If so you have to give this Life Lift Protein Pastry recipe a try!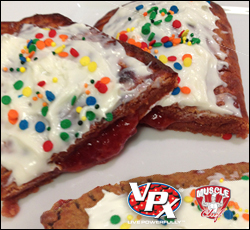 In less than 10 minutes you can create the perfect pre-workout snack that's ideal for sharing with your workout partner, now both of you will be fueled up and ready for a great workout! As an added bonus it tastes just like your favorite breakfast pastry but without all the sugar.
Create different flavor combinations by switching/mixing the Life Lift Bar and/or sugar-free Jam flavors! What is your favorite combination, share in the comments below.
Ingredients:
2 Life Lift Bars

2 Tbs Sugar Free Jam
Optional Topping Ingredients
:
Cream Cheese

Vanilla Protein

Stevia
Instructions: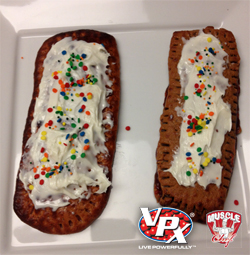 Take two Life Lift bars and roll them out into equal sizes using a rolling pin. Make one just slightly wider than the other, this one will go on top.

Place 1-2 tablespoons of sugar free jam in the middle of the slightly narrower bar. Cover with the wider bar and using a fork crimp the edges, this prevents your filling from spilling out!

Broil on high for 4 minutes, until the tops are nice and brown.

Remove from oven and when slightly cooled top with whatever you like, I used a mixture of cream cheese, vanilla protein, and stevia.
Nutrition Facts
Serving size: 1/2 of a protein pastry
Fat: 7 grams
Carbs: 31 grams
Fiber: 23 grams
Protein: 20 grams
This is a guest post by Mike Metzger (@Muscle_Chef on Instagram).