Typical chocolate cheesecake slices will run you over 1,000 calories with minimal protein, these mini chocolate cheesecakes however are only 127 calories and pack 16 grams of protein all while maintaining an authentic cheesecake flavor!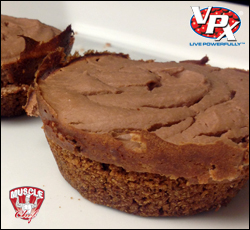 As an added boost the cheesecakes have a delicious crust with 14% of your daily fiber needs!
High Protein Chocolate Cheesecake
FILLING
1 cup fat-free cream cheese
1 cup fat-free ricotta cheese
2 egg whites
2 scoops VPX Syngex Serious Chocolate
4 Tbs coconut flour
1/2 tsp stevia
CRUST
1 cup Fiber One cereal
2 egg whites
2 tsp Coconut Oil
1 Tbs unsweetened applesauce
1 tsp vanilla extract
1/2 tbs Cinnamon
Procedure
CRUST
Pre-heat oven to 350 Degrees.

Put fiber one cereal in a food processor and blend until it becomes powder.

Put fiber one crumbs in a bowl and mix with coconut oil, applesauce, vanilla extract, cinnamon and egg whites.

Mix with your hands to combine all ingredients evenly.

Divide evenly and press into bottom of a muffin pan coated with non-stick cooking spray.

Put in oven and bake for 8 minutes. Remove from oven but do not remove from pan.

FILLING
Combine all remaining ingredients into a large mixing bowl and beat until smooth with an electric mixer.

Scoop equal amounts onto the cooled crusts in the muffin pan. Use back of a spoon to spread evenly.

Place in oven and let it cook for about 20-25 minutes until tops are lightly golden brown.

Remove from oven. Let it cool and then use a fork to pop the cheesecake from the muffin pan.

Place any uneaten cheesecakes in an air tight container and store in refrigerator.

Servings: 10
Preparation Time: 20 minutes
Cooking Time: 25 minutes

Nutrition Facts
Serving size: 1/10 of a recipe (3.5 ounces).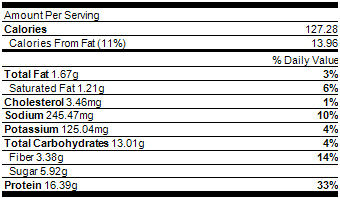 This is a guest post by Mike Metzger (@Muscle_Chef on Instagram).