In the mood for a healthy, low calorie meal replacement? Try a deliciously fulfilling Pumpkin Protein Shake! With Thanksgiving right around the corner, this treat will complement your spread - Perfectly! At just 188 calories with zero cholesterol or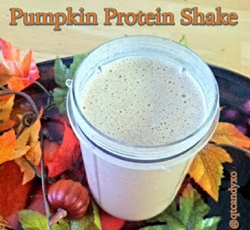 saturated fats, it's rich in dietary fiber, anti-oxidants, minerals and other vitamins; suitable any time of day!
Here is a little nutrition information on pumpkins that you might not already know. Pumpkin is incredibly rich in vital antioxidants, and vitamins and provides numerous healthy benefit such as the following:
Pumpkin Nutrition Facts
It is one of the very low calorie vegetables. 100g fruit provides just 26 calories and contains no saturated fats or cholesterol; however, it is rich in dietary fiber, anti-oxidants, minerals, vitamins. The vegetable is one of the food items recommended by dieticians in cholesterol controlling and weight reduction programs.

Pumpkin is a storehouse of many anti-oxidant vitamins such as vitamin-A, vitamin-C and vitamin-E.

With 7384mg per 100g, it is one of the vegetables in the Cucurbitaceae family featuring highest levels of vitamin-A, providing about 246% of RDA. Vitamin A is a powerful natural anti-oxidant and is required by the body for maintaining the integrity of skin and mucus membranes. It is also an essential vitamin for good visual sight. Research studies suggest that natural foods rich in vitamin A help a body protects against lung and oral cavity cancers.

The fruit is a good source of B-complex group of vitamins like folates, niacin, vitamin B-6 (pyridoxine), thiamin and pantothenic acid.

It is also rich source of minerals like copper, calcium, potassium and phosphorus.

Pumpkin seeds are an excellent source of dietary fiber and mono-unsaturated fatty acids, which are good for heart health. In addition, the seeds are concentrated sources of protein, minerals and health-benefiting vitamins. Furthermore, the seeds are an excellent source of health promoting amino acid tryptophan. Tryptophan is converted to GABA in the brain.
Pumpkin Protein Shake
At only 188 calories, this shake is packed with 24 grams of protein, 20 grams of carbohydrates, and 5 grams of fiber! Low in fat with only 3 grams, this scrumptious shake is perfect post workout, or any time of day!
Ingredients:
- 1 scoop VPX SRO Zero Carb Whey Protein (Graham Cracker)
- 1/2 cup Unsweetened Vanilla Almond Milk
- 1/4 cup Libby's 100% Pure Pumpkin
- 50g Banana
- 2 tbsps Walden Farms Chocolate Syrup (optional)
- 1 tbsp (16 g) Chocolate PB2
- Organic Cinnamon
- Water
- Ice
Instructions:
Blend all ingredients in blender (I use my Magic Bullet) until smooth and enjoy!
Yes, it is THAT SIMPLE!!!
Sip on this treat after the feast while looking at family albums and telling heart-healthy stories with loved ones.
Nutrition Facts:
188 calories, 3g fat, 380g potassium,
20g carbohydrates (5g fiber, 10g sugar) 24g protein
This is a guest post written by Redline Xtreme Girl Candy Brenn. She is a full time legal assistant and VPX Sports spokesmodel. Candy has been quite successful as an NPC Bikini Competitor and model. She has been featured on MAXIM.com, Bodybuilding.com, and FitnessGurls.com. Her academic background is in Business/Marketing but she is currently in school to become a registered dietician. Candy has a passion for health and fitness and loves sharing her fit tips and clean eating recipes via social media. You can friend her on Facebook, follow her on Twitter @CandyBrenn and on Instagram @qtcandyxo, or visit her blog.