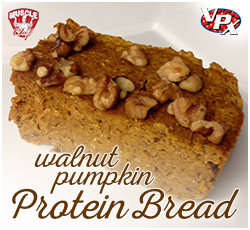 Here's a winter bread recipe that has an awesome ratio of nearly 2:1 protein to net carbs and is perfect way to start your morning! With slow digesting carbs, healthy fats, and a hefty dose of quality protein you don't have to feel guilty about enjoying a slice (or two!) of this bread. This recipe uses Bob's Red Mill Low Carb Baking Mix which I'm sure you've seen in my other recipes but may not know where to pick it up. I've been able to find both the low carb baking mix as well as the low carb bread mix (these two are actually identical except for packaging) at my local GNC along with health food stores such a Publix Greenwise and Whole Foods. If you're in GNC might as well pick up a Bang Energy Drink to accompany your slice of bread and really get your morning going!
Ingredients
1/4 cup stevia
1.5 cup Bob's Red Mill Low carb baking mix
2 Scoop VPX Vanilla Zero Carb SRO Protein
1 tbs baking powder
1/2 tsp salt
2 egg whites
1 cup Unsweetened Almond Milk

1.5 tbs Coconut Oil
1 cup canned pumpkin
1.5 tsp vanilla extract
3 tsp cinnamon
1/4 tsp ginger
1/4 tsp all spice
Walnuts (Optional)
Procedure
In a mixing bowl mix all dry ingredients together.
In a separate mixing bowl mix all wet ingredients together.
Pour the wet mixture into the dry ingredients bowl and mix well with a spatula.
Spray a glass baking dish with cooking spray to make sure your bread doesn't stick to it.
Pour mixture into the pan and sprinkle walnuts on top.
Place pan in the oven at 375 degrees for 30-45 minutes.
Once knife comes out clean the bread is ready!
Nutrition Facts
Serving size: 1/6 of a recipe
Calories: 215
Fat: 6 grams
Carbohydrates: 19 grams
Fiber: 6 grams
Protein: 21 grams
This is a guest post by Mike Metzger (@Muscle_Chef on Instagram).