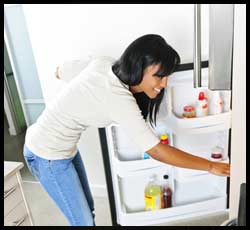 TIP OF THE WEEK: How to Avoid Giving in to those Sinful Cravings
Revamp your kitchen - Fill your fridge and pantry with the healthiest foods and snacks; get rid of any foods that will keep you from reaching your fitness goals. Don't let your kids be the excuse to have these foods in the house. If they absolutely must have these foods, designate a cabinet just for them that is off limits to you.
Become a Busy-Body - If you find yourself bored and wanting to have a snack, find something fun and exciting to occupy your time. Go for a bike ride, take a walk with the kids and the dog, read a book, spend time doing something recreational with your friends. Pick up a new hobby like trying the latest exercise class at your gym. If you don't have time to think about cravings, you won't have them!
Try the alternatives - Try low calorie sweets such as sugar-free popsicles and sugar-free Jell-o. These foods have about 10 calories per serving; if one is not enough, what the heck - have two! If you are out to eat with friends and everyone is ordering dessert, opt for coffee or hot tea, add a splash of skim milk and some artificial sweetener. You will satisfy your sweet tooth without sabotaging your hard work.
Brush your teeth - If you brush your teeth immediately after your meal you will be less likely to eat anything else because your teeth/mouth will be clean and if you eat or drink something else, you will have to brush your teeth all over again. Plus, toothpaste seems to give everything and anything you put into your mouth an odd flavor. Why consume excess calories if it's just going to taste distorted and minty?