"On my second lap of the Ultra Beast, I saw the leaves changing. I talked to other racers. I marveled at the views. I paused to watch a hairy yellow and black caterpillar inch across the trail…." Spartan Ultra Beast, 2012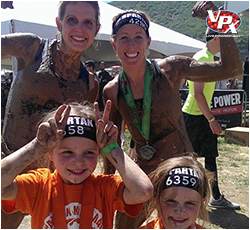 Whether running the Ski Mountains in Killington Vermont, trekking the volcanoes on Moyogalpa, Isla de Ometepe in Nicaragua or seeking other obstacles around the world, there is no better way to become intimately acquainted with a new location than to plan an Obstacle-cation there. An Obstacle-cation: Any obstacle event requiring a flight, hotel and/or car rentals!
During an Obstacle-cation you'll not only find yourself running, climbing, crawling and rolling in a new environment, you'll likely meet a fun mix of locals and vacationers from around the world, too. The only drawback can be the logistics and potential cost, especially because Obstacle-cations are too fun to stop at just one!
My VPX Teammate Kevin "Mudman" LaPlatney wrote a great article with tips for Taking Back the OCR ("Obsene Costs of Racing"). All of these are excellent ways to save some cash at any event. However, there are a few ways to plan and save specifically during an Obstacle-cation. As a former flight attendant and self-proclaimed Obstacle-cation addict, below are a few of the ways I have found helpful.
1. Get a Realistic Budget and start early
If money is a factor, and for most of us it is, before you commit to traveling to an out-of-town obstacle event it's a good to get an idea how much time and money it will really take.
Carefully read the event site for all the details and suggestions and take these things into consideration.
Is it in a metropolitan area (with lots of flights and hotel choices) or more of a rural location (with only a few affordable options).

Is the event close to an airport or more than one airport? If there is more than one airport, write them all down for future reference.

What is the average cost of hotels in that area?

How many travel/hotel days will it really take?

Will you need to rent a car AND what are the taxes and fees for car rentals in that area?

How much does the actual event cost and does it ever go on deal?

Can you volunteer and/or does the price increase over time?
2. Must-have Items for Obstacle-cations
Trash bags and Ziplocks - for dirty clothes, snacks, shoes etc.

Wet wipes - so many uses, but especially for quickly cleaning up if you have a plane to catch after a race!

Compression calf sleeves - If you have a long flight after a race, these are a must have.

Bug spray, sunscreen and poison-ivy specific body wash and cream - I bring them every race, just in case. Use a body wash specifically for poison ivy after every race, no matter how rushed you are. I cannot stress this enough. You're rolling, crawling and mucking your way through water, mud and plants your body is not accustomed to. Avoid some potential doctor visits and weeks of aggravation by washing up really well after an event.

Mini Med Kit with stomach-soothing items and ibuprofen, Sewing Kit and Duct Tape

Lacrosse ball or travel-size foam roller - use this while waiting at airports and post race to avoid cramping up on flights.

Photo copies of all your identification, credit cards, etc. - especially if you traveling internationally.
3. The Getaway
It's nice to have an extra day after an event but that's not always possible. Be sure to plan enough time for the long walk back to your car, finding your car (I always lose mine), possible traffic jams and long lines at car rental returns or airport security. Some hotels may have an early checkout, so a post race shower may not be an option. On those days, I sometimes mooch a shower at someone else's room, jump in the hot tub (don't tell) or wash off with the hoses as best as possible, using wet wipes for the rest. Mud is beautiful, too, right? Use your trash bag to throw everything dirty into and wear your finisher medal on the plane!
4. Random Tips
Bring a hotel towel for after the race (just return it)

Save on snacks and drinks by bringing a refillable water bottle, shaker bottle, your VPX powders, Life Lift Bars, etc. If you can fit it, bring food from home and avoid having to make a grocery stop. I never rely on hotels or new cities to have my pre-race foods or nutrition and never want to try something new on race day, so I always pack those items from home.

If you are carrying race nutrition on the plane, remember to pack Chomps or solid nutrition, versus Gus and gels that could get confiscated.
Check in next week to get Part 2, discussing tips for flights, hotels and rental cars!
---

This is a guest post by Leslie St. Louis, a competitive obstacle racer. Leslie is a mountain-loving trail lover and mom of two mud-loving girls in Morrison, Colorado. She is also ranked 9th in the Spartan World Points Series and the founder of a local obstacle group and resource, Colorado Obstacle Racers. She is proud to be a part of VPX Team Xtreme, as well as a member of the Spartan Pro Team and All Pro CrossFit Community.