Gut Check Fitness: The SUCK is a 12 hour overnight event that is designed to put people through what the soldiers went through in Vietnam. The term "Welcome to the shit" often meant that is the worst place you could possibly be because the conditions were very harsh and the mortality rate was very high.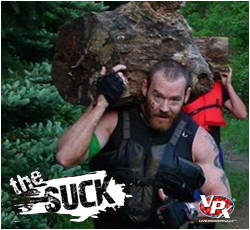 Joe Decker's event, The Suck, is to put people through just that. There are 12 hour events and there are 12 hour events at 100 miles an hour. This is definitely a 100 mile an hour event!
My first year doing it, the conditions were very hard to handle. In fact, I almost dropped out from the cold temperatures alone. This year I had a stomach bug during the event that almost caused me to drop from dehydration. Luckily, I was able to overcome the sickness and got some dry food that helped me calm and balance my stomach.
During the event we were expected to complete a few strongman competitions involving 200+ pound atlas stones, dead lifts, flipping a telephone pole (which is much heavier than a long ground to overhead 100 pound dumb bell) pull ups, and burpees each time we ascended down the mountain. I remember doing the strong man work outs each time I came down the mountain and I had no comfort in returning to base camp.
Over the course of the event we carried around 150 pounds of gear up the mountain piece by piece; and in many instances we were carrying 100lbs of sand in buckets up the mountain in ½ mile stretches. Half a mile never seems like much to me, but carrying those buckets up the mountain even took me an hour and a half on one leg (which was the last leg up). After getting up to each station on our way up the mountain there would be a series of workouts such as 100 sledgehammer swings and 100 sand bag thrusters.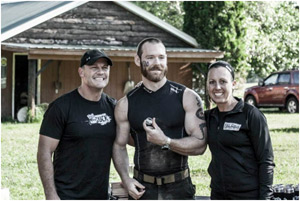 After completing that, they would send us back down the mountain for another strongman workout before we could then go back up the mountain and begin another long leg up the mountain with more bucket carrying and bushwhacking. At 4am I made it to the top of the mountain and was told to go back down a mile or so and carry one 50lb sand bag, 2 buckets, a sledge hammer and a tire back up to the top. That carry is what took me an hour and a half, because the carry was so uneven that I had to carry half of the items up at a time.
This is just a taste of the 12 hours I went through over the course of that night. This is definitely a hidden gem as far as fitness events because people know very little about it.
---

This is a guest post by Brandon Seale, a VPX sponsored athlete. He trains for Elite Spartan Races, Ultra Marathons, and various Endurance events. He enjoys training on the trails behind his home in Arlington Virginia. In order to reach his goal of training for extreme elevation and weather conditions, he is preparing for the 2014 Death Race!