LOCATION
On Saturday May 31st, I traveled to BATTLEFROG Series inaugural obstacle race outside of Atlanta at the Georgia International Horse Park. This is the same location Spartan Race used for some of their previous races. I only raced on Saturday of this two day event.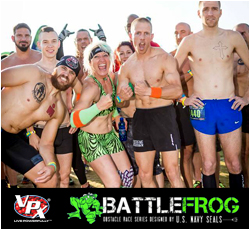 ARRIVAL
The Elite Heat of the Battlefrog 15k race was scheduled for 8:00am. This was the only race that Battlefrog was offering prize money for during the weekend. I arrived to the venue just before 7:00am, along with other racers, to find volunteers already manning the parking lot. Additional volunteers were finishing setting up registration and started handing out race packets (bib numbers, timing chips, admission / "over 21" bracelets). Everything was well marked and easily identifiable so registration and packet pick-up was smooth.
In addition to the registration area, there was also a merchandise tent, food tent, sponsors tent, a "Biggest Team" tent, a HUGE shower/wash off area, the expected port-o-potties, and a gauntlet style obstacle area setup for challenges within the festival area.
THE RACE
At around 7:30am, I headed out to the parking lot for a warm-up. When I returned, they announced a moment of silence followed by the National Anthem. While the National Anthem was being played, a helicopter could be heard approaching from the distance. As the crowd cheered at the closing of the National Anthem, the helicopter flew by and circled past once again.
Racers from the Elite Heat lined up at the start line. I positioned myself up front near fellow racers Hobie Call, Enrique Tomas, and David Chandler to name a few. We joked around and laughed while numerous photographers were snapping pictures. Hobie Call was the obvious center of attention.
A "terrorist" in costume was on the race course about 100 yards from the racers. There was little to no instruction given to racers and the countdown was on. As the horn blew for the start, the "terrorist" ran away as the racers ran towards him on the course. We ran through an open area making our way to the first obstacle just before hitting some trails. The first obstacles were quick and easy over, under, and through obstacles, similar to Spartan Race. We then hit a short rope hill followed by a series of high steps that went up like a pyramid and then back down. As the race went on, the field thinned out with 10 or so racers ahead of me, a few behind me, and the rest further back.
All the obstacles were very solid and well built. One obstacle we came upon was the Jerry Can Hill Carry. These were green cans filled with water that we had to carry up and around the hill and back down. This was a shoulder burner! We continued on a variety of terrain between rugged trails, swamps, streams, through ponds, through tunnels, open fields, on granite rock, and grass. The obstacles and variety of terrain was awesome and challenging! A rope traverse over water was a tough yet pleasant surprise in the middle of the woods. A cargo climb was located right in the middle of the swamp area.
Eventually, the course wound its way back to the festival area for a series of obstacles leading to the finish. First, there was a paintball shooting challenge where each racer was given 3 tries to hit their target or be subjected to the '10 Bodybuilder' penalty. Then there was the "Hooyah", which consisted of a rope/wall climb followed by a tube slide into water. Battlefrog's signature obstacle was next – the Tsunami. This consisted of a slippery 1/4 pipe / rope climb to another slide into water. Finally there was the "Jacks" barbed wire crawl to the finish. In all, we encountered approximately 28 obstacles. Battlefrog's Navy SEAL course designers put that theme into play in a variety of ways on the course and in the obstacles.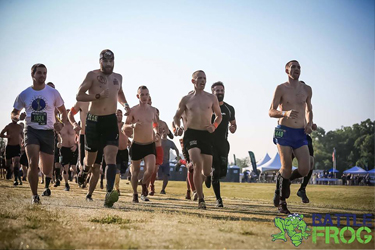 At the finish, racers were given a medal and they offered energy drinks, water and bananas to the participants. Throughout the course, volunteers were helpful and encouraging. I did not see anyone fail an obstacle so I'm not aware of any penalty enforcement issues nor were any issues brought to my attention. In the end, I finished 2nd place in my age group and 19th place overall. I could see fellow racer Hobie Call being interviewed. He was the overall winner and later received a check for $1,000.00.
Later that afternoon, I ran the Bullfrog 5K race in an open heat. The 5k course consisted of mostly the beginning and end portions of the Battlefrog course. Essentially, it was just a shortened course, but equal in quality, where 5k racers still experienced Battlefrog Series signature obstacles.
CONCLUSION
Overall, Battlefrog took their opportunity to make a first impression and nailed it! I spotted and even talked to Don Mann, the chief operating officer of Battlefrog and former member of SEAL Team Six, and would happily tell him they delivered on every aspect of the event. It wasn't perfect, but when minor challenges were presented to them they were quick to respond and make corrections.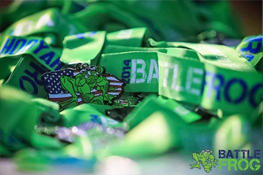 Battlefrog offered 3 great courses (15k, 5k, and a 1k kid's race). There weren't any issues with back-ups at obstacles and the approximately 50 shower/wash off stations were ample enough to avoid overcrowding. Music was played throughout the festival area the entire day with an emcee making announcements so everyone was aware of wave start times and various activities, such as SEAL demonstrations/awards. When it came to the SEAL demonstrations and flyovers, real Navy SEALs put on a show capturing everyone's attention! Racers took advantage of the gauntlet challenge in the festival area while lots of photographers were around documenting all the action. The signature obstacles near the finish line were easy for spectators to watch.
I could tell that they not only had volunteers helping out, but also had employees taking charge and keeping things well orchestrated. Battlefrog offered different medals for each race and the medals were excellent quality. I rate Battlefrog a 9 out of 10; excellent, but they have a little room for improvement. For their first race, they performed extremely well. They made their mark in the OCR world and I think they will continue to grow! I look forward to racing BATTLEFROG Series again. Hooyah!
---

This is a guest post by VPX Team Xtreme Athlete Matthew "UltraBeast" Dolitsky.