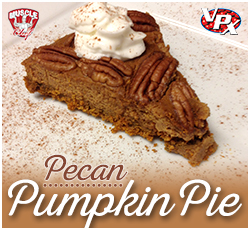 It's that time a year again, holiday office parties, charity events, and family get togethers. These gatherings aren't normally very physique friendly between the alcohol, stuffing, and calorie laden desserts. Well not to worry, we have you covered with a delicious dessert you can bring that won't blow your macros (and your waist line) while still tasting just as delicious as traditional pumpkin pie! Just to test it out, I even brought it to my office holiday party and it was gone in the first 5 minutes and no one ever suspected it was healthy! So enjoy a slice, or the whole darn thing because the entire pie has less calories than 1 slice of many of the traditional recipes!
Pecan Pumpkin Pie
Ingredients
Crust


1 cup Fiber One cereal

1 egg white

3 tsp Coconut Oil

2 TBS unsweetened applesauce

2 tsp vanilla extract

1/2 tsp salt

2 tsp cinnamon

Filling


1 can (11 oz) pumpkin puree

1 scoop VPX Vanilla Syngex Protein

1/1.5 tsp cinnamon

1/2 tsp cloves

1/4 tsp all spice

1/4 tsp ginger

1 pinch salt

1/2 cup egg whites

1/2 cup Almond Milk

1/4 cup brown sugar/Splenda mix

1/2 cup pecans
Procedure
Crust
Place fiber one cereal into a food processor and process until cereal is in powder form.
Add coconut oil, apple sauce, egg white, vanilla extract, salt and cinnamon and mix well by hand.
Use hands to knead mixture and place onto a round baking dish sprayed with PAM.
Place baking dish into oven at 350 degrees for 10 minutes.
After 10 minutes remove baking dish and let cool.
Filling
Place pumpkin, protein powder, spices, egg whites, almond milk and splenda into a bowl and mix until all is thoroughly combined.
Pour pumpkin mixture into the pie crust and spread evenly.
Place pecans on top in preferred design and amount.
Bake in oven for 45-55 minutes.
Servings: 8
Preparation Time: 20 minutes
Cooking Time: 1 hour

Nutrition Facts:
Serving size: 1/8 of a recipe (3.7 ounces)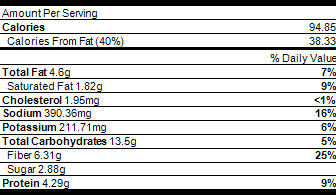 This is a guest post by Mike Metzger (@Muscle_Chef on Instagram).