MmMmMmMmmm how I LOVE BANANA BREAD! I doubled this recipe and made 2 loaves; one with basic bananas, and the other I added walnuts and raisins. Both are made with all natural, organic, almond flour so they are gluten free and Paleo friendly.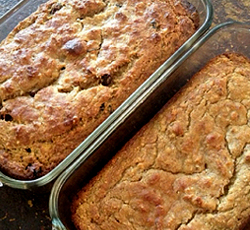 Additionaly, my high protein banana bread packs 15g of protein per slice! WOAH! This recipe is incredibly easy and delicious. Simple and sweet! Great for breakfast, as a snack, pre-workout, post-workout, with dinner or as dessert! You really can't go wrong :) Enjoy my friends!
Ingredients:
- 2 cups Organic Almond Flour
- 2 Ripe Bananas, mashed
- 1/4 cup Zero Carb SRO Whey Protein Powder - Graham Cracker
- 1/4 cup Unsweetened Applesauce
- 1/2 tbsp Organic Cinnamon
- 1 tsp Vanilla Extract
- 1 tsp Baking Powder
- 1/2 tsp Baking Soda
- 1/4 tsp Salt
- Optional: Chopped nuts, raisins, berries, chocolate chips, etc! Share the extras you added to your bread in the comment section below.
Instructions:
- Preheat oven to 350°F.
- Spray glass bread pan with non stick cooking spray.
- Mix all of the ingredients together in a large bowl.
- Pour mixture into glass bread pan.

- Bake for about 45 minutes or until loaf is golden brown and toothpick comes out clean.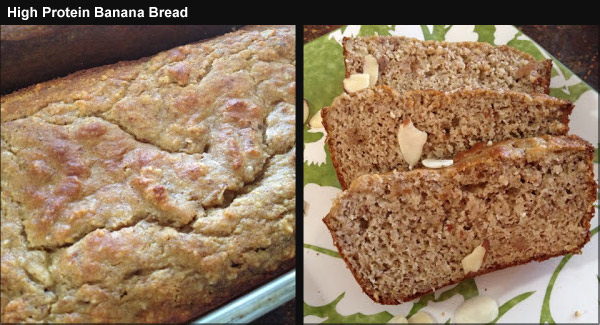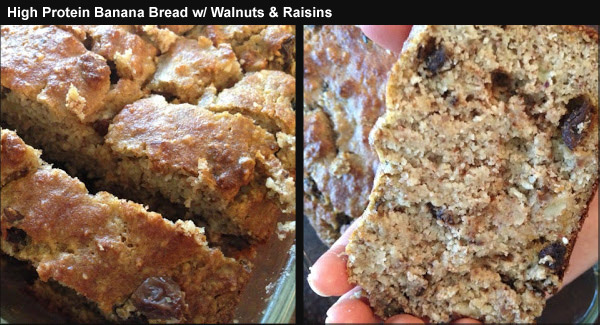 Nutritional Information:
Per slice (cut into 8 THICK slices)
235 calories, 15g fat, 200mg sodium, 138g potassium
13g carbohydrates (4g fiber, 5g sugar), 15g protein.
This is a guest post written by Redline Xtreme Girl Candy Brenn. She is a full time legal assistant and VPX Sports spokesmodel. Candy has been quite successful as an NPC Bikini Competitor and model. She has been featured on MAXIM.com, Bodybuilding.com, and FitnessGurls.com. Her academic background is in Business/Marketing but she is currently in school to become a registered dietician. Candy has a passion for health and fitness and loves sharing her fit tips and clean eating recipes via social media. You can friend her on Facebook, follow her on Twitter @CandyBrenn and on Instagram @qtcandyxo, or visit her blog.