Why exercise alone? It's boring, lonely, and it's much harder to stay motivated five to six days a week at the gym. Music improves the situation, but it doesn't replace the company you gain from a workout partner or group of people to interact with.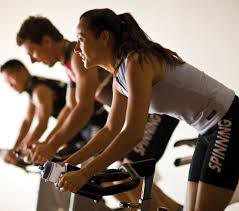 Image Source – cme2bfit.com
I knew I needed motivation and couldn't stay on track while juggling a tough career. For a week or two I'd spend considerable time at the gym, and then would fall back into lazy habits after work. I never could catch a grip on establishing a concrete exercise routine. Extra work, happy hours, or my Thursday night TV show would block my success. I couldn't attain a healthy weight.
Thanks to a suggestion from my primary care doctor, I dropped the attempts at working out alone and molded a plan for social exercise. My doctor expressed concerns about my weight and lifestyle habits. He didn't want me to lose control of my weight or continue to indulge in bad habits. It's in my nature to be social so he told me to mix that with exercise to keep me more entertained, interested and accountable. He suggested these three social health ideas.
1. Group Fitness
This was a baby step into social exercise for me. I joined a spinning class initially to start off. I made friends immediately with the other women and few men in the class. While attending spin class three days a week, I began transforming into a gym rat!
Spin classes were like a gateway for me and encouraged me to join yoga as well. It left me feeling balanced, relaxed and more flexible. From there I also started spending time in a mountain biking group on the weekends.
Group fitness is an excellent starting point for a socially designed fitness plan. It offers great opportunities to find new friends and have fun while working towards a mutual goal.
2. Hiking or Running Group
Exercising groups are the best. Once my leg muscles began to tone and gain strength, I accepted the next challenge of a runner's group based out of the gym. The members of the group seemed like seasoned runners and trail blazers who would leave me behind.
Instead, they were the nicest group of people ever. Each person got a chance to map out our runs every week. After some long runs we stopped in a bar for a post drink or two. We mingled, became close friends, and provided health support for one another.
If any person tried to slack off by missing a run, we called, texted, and even ran to a person's house once. I never experienced that level of physical activity commitment and fun before.
Some people from our running group also spent time hiking. It was a nice change of pace from running and it gave us the opportunity to take in a little nature while staying active.
3. Social Eating Affects Exercise
You can't ignore eating habits when founding a social exercise plan. You can still exercise consistently, but if you're not eating right then the results from physical exercise are wasted. Creating a social fitness plan also entailed improving eating habits.
After a little research, the community garden called my name. The people committed to gardening were friendly, inviting, and nutritionally aware. When you invest time grooming, nurturing, and growing your own vegetables and herbs, it changes your vision on eating.
I paid attention to the nutritional labels at grocery stores, never missed the local farmers market, and focused more on constructing healthier meals. I stopped binging on unhealthy late night snacks and learned to control food cravings. I made incredible friends at the community garden. We share meals together, throw barbecues and picnics, and give one another fresh produce gifts.
My health, fitness level, eating habits and lifestyle have all improved tremendously since creating my own social exercise plan. What ways have you tried to make health and fitness a more social activity in your life? Share in the comments section below.
This is a guest post written by Jessica Socheski. She is a freelance journalist currently writing about nutritional and fitness tips that helped her lose weight and gain control of her health. You can connect with her on Twitter.