Unless you are a runner or are training for a triathlon, running on a treadmill for an hour or climbing on a stair climber may seem like death sentence. We all know it's necessary to do cardio, and can't simply abandon it.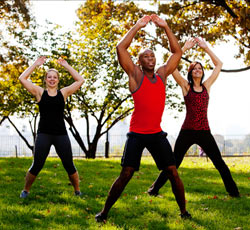 Your gym may offer some great cardio classes, but what happens if you don't get there on time or the only class they are offering is their jazzy step aerobics?
If you are looking for a fat blasting workout in half the time, the secret in high intensity INTERVAL TRAINING! From burpees to squat jumps, and different types of plyometrics, you are bound to get great results and actually have fun doing these exercises. You will be able to raise your heart immediately and will get the benefit of toning your muscles and using your core through the whole workout. I have not used an elliptical or stair stepper in years, and do not plan to do so anytime soon. All you need is your own body weight… no extra equipment required! You will not have to wait at the gym for a machine, and can even do all of these exercises at home!
Start with a few simple exercises like squat jumps and once you are comfortable, move on to burpees and squat thrusts. You will not be disappointed with your results. If you are a beginner start with 6, 30 second cycles of plyometric exercises. If you are advanced, move on to each round lasting 1 minute with a 10 second break in the middle. There are so many variations; this will not be your typical hi-low class you did in the 80's. This is a new kind of high intensity, fat burning training that best trainers and athletes are using. Please check with your doctor before beginning any exercise regimen. Here is an example of some exercises you can do:
Complete each exercise for one minute with a 10 second rest in between. Repeat 2 or 3 times through for fat blasting results!
Jumping jacks
Squat jumps
Burpees
Ski jumps side to side
Mountain climbers
Speed Boxing