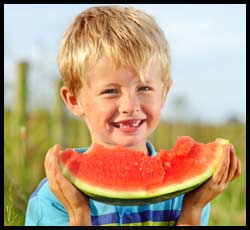 Tip of the Week: Eat to Stay Hydrated!
Summer's here, and if your city is anything like South Florida, it is HOT! Are you tired of drinking tons of water to avoid dehydration in the hot summer sun? Try eating more fruits and vegetables – Watermelons and cucumbers consist almost entirely of water and will help keep you hydrated, not to mention they taste delicious and are a refreshing, healthy snack to incorporate into your outdoor barbeque fiesta.
Get the kids involved in a watermelon spitting contest – this is fun for them and a great way to keep them occupied and out of trouble.
It's important to be drinking at all times during hot weather. You want to be hydrated before you go into the heat and you want to keep drinking and stay hydrated while you're in hot places, whether you feel thirsty or not. And if you do feel thirsty, drink even more. Your bodies thirst mechanism kicks in after dehydration has already begun. Be sure to drink plenty of fluids, such as Coco Fit, so you are never thirsty.
Coco Fit is an exciting new rehydration drink that is revolutionizing the world of sports beverages. With its unique adaptation of one of the world's oldest and most natural and proven rehydration fluids, Coco Fit combines all natural and refreshing coconut water vitamin D, healthy Omega 3 fats, and anti-oxidant rich natural flavorings to bring you what researchers would have to consider is the world's first all natural and healthiest rehydration sports drink.