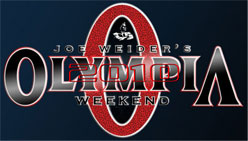 If you're a fitness enthusiast, you'll be in Las Vegas, Nevada on September 24 and 25 for the 45th Anniversary of the Mr. Olympia Weekend, where you will experience the two day muscle building, eye pleasing, heart pumping action that is the 2010 Olympia Weekend Expo!
Come and feel the Ultimate bodybuilding and fitness experience being held for the 6th straight year at the Las Vegas Convention Center. This year's expo is already shaping up to be the best yet, where bodybuilding and fitness fans from all over the world come to see, sample and purchase new products, while having a chance to meet athletes, celebrities and industry icons!
They are also excited to bring back the UFC, FLEX Magazine's Bikini Model Search, Olympia Strongest Man Challenge, Pro Powerlifting Championships, Mr. Punyverse, Figure Olympia, Fitness Olympia, Ms. Olympia, World's Strongest Bodybuilder, 202 Showdown and the inaugural Bikini Olympia and Muscle and Fitness Male Model Search contest.
For only $15, you will have a chance to haul away tons of giveaways such as protein bars, supplements, the latest energy drinks, t-shirts, M and F, FLEX and M and F Hers Magazines and so much more! Don't take our word for it, come and experience the Olympia Expo for yourself!
For more information, check out
www.vpxsports.com
or
www.mrolympia.com