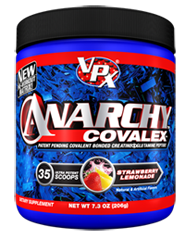 Myogenic Regulatory Factor (MRF) Igniter!™
The Birth of Muscle and Death to Fat!™
Anarchy™ was innovated without rules, scientific boundaries and limitations - Anarchy is the rule of controlled chaos!" J. Owoc, June, 2010.
Anarchy induces extreme mental acuity & intense energy required for explosive workouts. Anarchy's additional physiological functions include rapid ATP and phosphocreatine resynthesis, increasing whole body Creatine retention & intramuscular Carnosine, along with pH stabilization/fatigue inhibition. The end result is muscle engorged with nutrient dense blood to induce explosive power & intense energy.
Combined with intense training internal genetic changes then take place inside the muscle. Satellite cell proliferation and mitochondrial biogenesis occur resulting in, "The birth of muscle and death to fat!"™ Simply stated, fat is burned inside the mitochondria of the muscle, while increases in muscle DNA are the genetic coding system directing muscle cells to split and form new muscle.
Anarchy is designed to ignite Myogenic Regulatory Factors (MRF's) and positively amplify muscle gene proteins giving birth to new muscle!
Increases in MRF's up to 515% and a 1600% improvement in muscle DNA are proven by a study conducted at Baylor University on VPX's NO-Shotgun.
This same University Science has been used to develop the cutting-edge Anarchy formula. Anarchy is currently the only product in the world to contain VPX's Covalex™ -- Patent Pending Covalently Bonded Creatine and Glutamine Peptide. Uncut and Unadulterated: Utilize Anarchy with caution!
---

Click here to learn more about the most Intense Pre-Workout Matrix VPX has to offer!
---