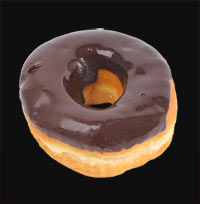 Scientists have unlocked the secret to eating clean! That's right. When you look at that donut, ice cream cone, or that thick stack of pancakes, scientists may have unlocked the chemical messenger that essentially tells your brain 'no thanks' to junk food. This molecule has been found to reduce appetite in studies on mice in fact.

What is it? This new chemical occurs naturally in the body of both mice and human beings and is called hemopressin. Hemopressin is a 9-residue alpha-hemoglobin-derived peptide and functions as a cannabinoid (CB) receptor antagonist. Hemopressin is shown to inhibit agonist-induced receptor internalization in a heterologous cell model. The CB receptor in the brain is responsible for the pleasure that humans receive after ingesting a meal. Hemopressin works by affecting the reward centers of the brain that are satisfied after indulging to a caloric meal when hunger is present.

Successful tests have been conducted on the effects of hemopressin to block these reward centers in the brain by working against the CB receptor and ultimately suppressing appetite. Dodd et al. states that hemopressin may act as an endogenous functional antagonist at CB receptors and modulate the activity of appetite pathways in the brain. This means that people who consume hemopressin supplementation would stop eating purely for pleasure instead of from hunger.

A similar substance was found 6 years ago called Rimonabant. This was an effective appetite suppressant, but it was later linked to adverse side effects and withdrawn from the market. Hemopressin has yet to be revealed to the market, but recent studies have shown similar effects to that of Rimonabant without the adverse side effects. Studies have been focused on mice and have yet to be conducted on humans. Hemopressin dose-dependently decreases night-time food intake in normal male rats and mice, as well as in obese male mice, when administered centrally or systemically, without causing any obvious adverse side effects. In essence, mice who were administered hemopressin ate a significantly less amount of food.

Dodd et al. stated after their findings that "this study is an indication of safety, but cannot be immediately extrapolated to humans. This discovery offers new insight into how the brain controls appetite and opens new avenues by which to manipulate this brain circuitry and aid the development of anti-obesity treatments." This finding can lead the way to new drugs that can stimulate the brain to produce more hemopressin. Researchers at Manchester University have added that hemopressin may also have the ability to treat alcohol and drug abuse.
---
Gomes, I., Grushko, J., Golebiewska, U., Hoogendoorn, S., Gupta, A., Heimann, A., et al. (2009). Novel endogenous peptide agonists of cannabinoid receptors. The FASEB Journal: Official Publication Of The Federation Of American Societies For Experimental Biology, 23(9), 3020-3029. Retrieved from MEDLINE database.
Dodd, G., Mancini, G., Lutz, B., & Luckman, S. (2010). The peptide hemopressin acts through CB1 cannabinoid receptors to reduce food intake in rats and mice. The Journal Of Neuroscience: The Official Journal Of The Society For Neuroscience, 30(21), 7369-7376. Retrieved from MEDLINE database
Dodd, G., Mancini, G., Lutz, B., & Luckman, S. (2010). The peptide hemopressin acts through CB1 cannabinoid receptors to reduce food intake in rats and mice. The Journal Of Neuroscience: The Official Journal Of The Society For Neuroscience, 30(21), 7369-7376. Retrieved from MEDLINE database