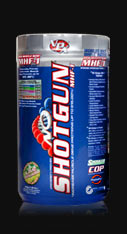 How low can you go? Well apparently pretty frickin' low. A 2.72 gram dose of creatine for a 200 lb individual is enough to enhance fatigue resistance. That's a mere 0.1 ounce my creatine-loving friends. In fact, one the few creatine-containing pre-workout anabolic formulas (NO-Shotgun) that has a real study to back it up is a great choice for anyone needed that extra boost in muscle mass, power, and performance.(1) Check out the study on NO-Shotgun published in the Journal of the International Society of Sports Nutrition. Got Anabolism? Try NO-Shotgun!
Study Summary: OBJECTIVE: We examined the effects of 6 wk of low-dose creatine supplementation on body composition, muscle function, and body creatine retention. METHODS: Twenty healthy men and women (21 +/- 2 y old) were randomized to receive creatine (0.03 g . kg(-1) . d(-1); n = 10, 4 women) or placebo (n = 10, 4 women) for 6 wk in a double-blind placebo-controlled fashion. Participants were tested on two occasions before supplementation to establish a reliable baseline, and then were retested after supplementation. Testing included body composition, maximal strength (three-repetition maximal concentric knee extension at 180 degrees/s), muscle fatigue (five sets of 30 concentric knee extensions at 180 degrees/s), and plasma creatine concentration.
RESULTS: There were no significant differences in body mass, fat-free mass, fat mass, body fat percentage, total body water, or maximal strength in either group from before to after supplementation (all P > 0.05). After supplementation, plasma creatine increased significantly in the creatine group (+182%, P = 0.03), with no difference in the placebo group. Compared with baseline values, creatine-supplemented volunteers were more resistant to fatigue during sets 2 (7%), 3 (9%), 4 (9%), and 5 (11%) (all P < 0.05). In placebo-supplemented participants, there was no improvement in fatigue resistance during sets 2 (0%), 3 (1%), 4 (0%), and 5 (-1%) (all P > 0.05). CONCLUSION: Ingesting a low dose ( approximately 2.3 g/d) of creatine for 6 wk significantly increased plasma creatine concentration and enhanced resistance to fatigue during repeated bouts of high-intensity contractions.(2)
References
Shelmadine B, Cooke M, Buford T, et al. Effects of 28 days of resistance exercise and consuming a commercially available pre-workout supplement, NO-Shotgun(R), on body composition, muscle strength and mass, markers of satellite cell activation, and clinical safety markers in males. J Int Soc Sports Nutr 2009;6:16.
Rawson ES, Stec MJ, Frederickson SJ, Miles MP. Low-dose creatine supplementation enhances fatigue resistance in the absence of weight gain. Nutrition.
---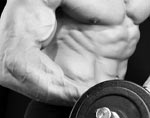 Do you want mind blowing workouts, skin bursting muscle pumps and massive increases in lean muscle tissue? Try VPX No-Shotgun MHF-1 Today!
---