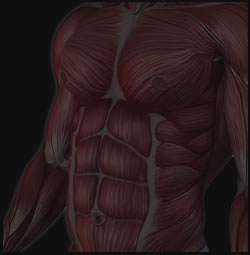 When you are exercising, Diet becomes even more important. Here are 3 Simple Diet tips to build Muscle:
Eat better. Eat 1g of protein per pound of your bodyweight divided into 5-6 meals throughout the day. Use supplements for convenience if necessary. Protein Rush is a ready-to-drink protein shake that makes getting your protein easy and convenient. Zero Impact protein bars are an easy, quick, and healthy meal replacement.
Hydrate. Make sure to drink plenty of water throughout the day. Instead of plain water you can add Power Shock , which contains branched chained amino acids and comes in three delicious flavors: Grape, Lime and Fruit Punch.
Whenever possible, cook your meals. It's a great way to stay lean and not put additional fat in the wrong areas. This also allows you to know exactly what you're eating and in a portion size that's appropriate.

FREE TOP 10 FAST FAT LOSS and WEIGHT LOSS TIPS
Learn more about how you can achieve your fat loss goals.