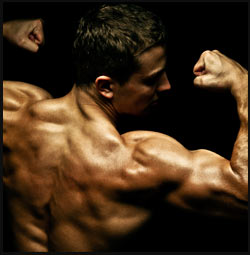 In a nutshell, it's basically anything that can ratchet up your metabolic rate. Most are 'stimulants.' Though when you think about (or maybe you don't really like to think about), protein has a very high thermogenic (or thermic) effect. But to most of us, we take a thermogenic to boost our metabolism (with or without the addition of calories). By boosting our metabolism, we can increase total calorie and fat burning.
Never in the history of weight loss and thermogenics has a supplement come out and proven both in the real world as well as the science laboratory to be super-effective. That is, not until VPX's Meltdown®. In fact, this single thermogenic supplement has more supportive (and published in scientific journals) than any other on the market. In fact, check out the competitors. They are always talking about things like "the ingredients in this product have been shown to cause x, y, z." The ingredients? What about the actual product? Ask the supplement manufacturer if they have a study on their product. You'll be surprised how so few have done any science at all. In fact there are more virgins in a Tijuana cathouse then there are supplement companies that have actually done studies on their own fat-burners. Yep. That many.
But with Meltdown®, there are 3 studies on the capsules on 1 study on the RTD or ready to drink. All are published in peer reviewed science journals. We know that this potent thermogen has a thermogenic effect that is 113% greater than 20 mg ephedrine combined with 200 mg caffeine! Also, the thermogenic effect last for 6 hours plus. One way it does this is because Meltdown increases norepinephrine ("norepi") levels significantly; Norepi is a type of hormone called a catecholamine. It helps with increasing metabolism, increasing the release of sugar (energy) from stores, and increasing blood flow to muscle. This stuff is a fat-burning trigger.
So before you reach for the thermogen with zero studies behind, instead reach for VPX's Meltdown®. Four studies; proven science; proven fat-burning thermogenic energy.