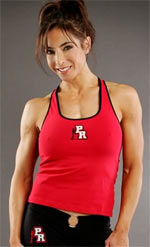 Carla Sanchez, C.S.C.S and IFBB Pro
A MILF, Mother In Love with Fitness, is dedicated to a healthy and active lifestyle, setting a great example to her kids and other moms juggling work, family and fitness! A MILF is strong, sexy, lean and fit. She maintains her curvy figure with regular weight training, cardiovasular exercise and sound nutrition. You will not see a MILF going to the drive-thru, pounding margaritas or sitting around the house watching soap operas and eating potato chips! A MILF respects her body and doesn't use the excuse that having children equates to losing her figure! A MILF is that hot mama you see in the neighborhood pushing her stroller with ripped arms, lean legs, and no sign of a 'baby pooch.' A MILF is the woman you're walking behind, noticing what a great rear end she has, who then turns around and nearly knocks you over with her 'ready-to-pop' baby belly! A MILF is the buff chick you admire at the gym and then after watching her pick-up her three kids from the health club nursery, you realize if she can look great after three kids, so can you!
Ready to look like a hot mama and have the energy to run around with your kids? Follow these MILF tips and you will be the next hot mama in your town!
TOP MILF TIPS:
Carry your baby in a sling and go for a 30-minute brisk walk, everyday. The added baby weight will help burn extra calories.
Don't snack on empty calories. Intead, whip-up a VPX Zero Carb protein shake!
Meet other busy moms at the gym or at the park for a fun, fat-burning, strength-building circuit. You can burn fat and get super results in just 30-minutes! See below for a sample circuit routine.
Drink a Redline Princess or take Meltdown before your workout for extra energy and added fat-burning potential!
While your child is napping, do as many push-ups, lunges and crunches as you can in a 10-minute period!
Get outside and play with your kids! Run around the park kicking a soccer ball, play tag, practice counting while doing push-ups together, jump rope, race each other, ride bikes, throw balls...just get outside and use your imagination!
Hire a babysitter or have a family member take care of your kids once per week so you can have a massage, get a pedicure, go to a yoga class, get your hair cut or do any other personal indulgence.
Commit to being F.I.T.: a Family-In-Training! Every weekend, do something active as a family; swimming, biking, hiking, playing frisbee in the park or even going to the zoo...at least you're walking!
Get a Beach Body tan! Every MILF needs a sexy, safe tan that only Beach Body Glow or Beach Body Tan Mist can provide! Order at www.performanceready.com
MILF Fat-Burning, Strength-Building Circuit
Jump Rope x 200 revolutions
Push-Ups x 25 reps
Walking Lunges x 50 reps
Lat Pulldown or Row w/ resistance band x 15 reps
Bicycle Crunches x 50 reps
Jump Rope x 200 revolutions
Bench Dips x 50 reps
Squat Jumps x 15 reps
Upright Row w/ resistance band x 15 reps
Reverse Ab Crunches x 50 reps
2 sets
The HOTTEST MILF'S are on the Performance Ready Fitness & Figure Team, coached by IFBB Pro and Super MILF, Carla Sanchez
www.performanceready.com
Jessica Palmer; IFBB Fitness Pro and 2nd place finisher in the VPX Meltdown Challenge. Jessica has a one-year old daughter and her favorite VPX product is Meltdown.
Ami Seir; NPC Figure Competitor, mother of an 18-month old son and pregnant with her second child. Ami's favorite VPX product is Zero Carb protein powder.
Shelley Hilleshiem; NPC National Figure Competitor and fitness model. Shelley is the mother of 2 young children. Shelley's favorite VPX product is Power Pump.
Kristie Johnson; NPC Figure & Bikini Competitor and has a two-year old daughter. Kristie's favorite VPX product is Redline Princess.