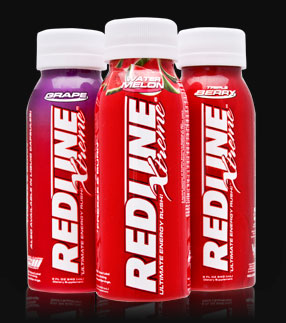 University Research Proven to AMP your PERFORMANCE
What happens when you combine the best world class supplement formulators from VPX with the best sports nutrition scientists in the Western Hemisphere? A super premium energy drink that rocks your opponent's world and gives you crisp focus, clean energy and razor sharp reaction - that's what! In fact, a recent university study discovered that Redline® produced significant improvements in reaction time, as well as enhanced feelings of energy and focus. In this investigation, twelve male athletes underwent two testing sessions. They consumed either four ounces of Placebo or four ounces of a Redline®. Keep in mind, that is half a bottle of Redline®. They found a significant difference in reaction time, energy and focus. This proves beyond a shadow of a doubt that Redline® has a ginormous benefit for sports such as baseball, football, mixed martial arts and many other sports. In fact, all sports require superb reaction time and this increase in performance is what wins games and makes champions. Redline Xtreme®, made for athletes, but effective for everybody. Imagine how far you can step your game up with Redline Xtreme®.

Scientific Proof
1. Hoffman JR, Kang J, Ratamess NA, Hoffman MW, Tranchina CP, Faigenbaum AD. Examination of a pre-exercise, high energy supplement on exercise performance. J Int Soc Sports Nutr. 2009;6:2.
University Research Scientists Discovered that Redline Delivered:
A significant 7.5% improvement reaction time!
A dramatic 13% increase in energy!
An amazing 15% increase in focus!
Whether you're reacting to a 100 MPH pitch or a 120 MPH tennis serve, juking a player on the football field or delivering a knock-out ultimate fighting blow, reaction time is the key to a winning performance. Victory is determined in fractions of a second. So, use the power of Redline Xtreme® to give you a mind-blowing performance boost by increasing reaction time by 7.5%. To further insure victory, Redline Xtreme® dramatically enhances focus and energy. Winning isn't everything - it's the only thing. Choose Redline® to destroy your opponent and experience victory.