If you're anything like me, you remember the days of your parents coming back from the bakery with a box of sweet smelling cinnamon and a freshly iced coffee cake. Fitting this sweet treat into your fit lifestyle can be challenging, as often a small piece clocks in between 200 and 350 calories!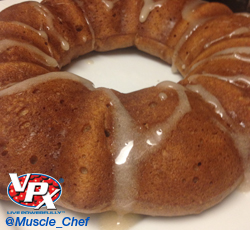 Today the coffee cake is back in the meal plan with this high protein version that comes in at just over 100 calories -- and it even includes a sweet icing topping!
High Protein Cinnamon Coffee Cake

Coffee Cake Ingredients:
1 cup All-purpose flour
2 scoops VPX Vanilla Syngex Protein
1 scoop VPX Fiberteq
1 tsp Baking powder
1/4 tsp Baking soda
1/4 tsp Salt
2 Tbsp. Cinnamon
1 cup Granulated Stevia
1 egg
1 tbsp. VPX Thin Fat
1 Cup Plain low-fat yogurt
2 tbsp. Vanilla extract

Sugar Free Drizzle Ingredients:
1/2 cup Splenda
1 tsp Almond Milk

Instructions

Cinnamon Coffee Cake
Take a Bundt pan and spray with non-stick cooking spray

Pre-heat oven to 350 degrees

Mix all dry ingredients in a bowl using a spatula

Add 1 Egg and Mix with an electric mixer or whisk until soft peaks form

Fold in Yogurt and Mix well with an electric mixer or whisk until smooth consistency

Add VPX Thin fat and mix well with rest of ingredients

Once mixture is smooth pour mixture into Bundt pan and place in oven

Bake for approximately 35 minutes or until knife comes out clean

Once is ready remove from oven and let it cool for a couple of minutes. Serve on a plate and enjoy!

Sugar-Free Drizzle
Pour 1/2 cup of Splenda into a food processor and pulsate until it is a powder consistency

Pour powder Splenda onto a cup and add 1 tsp of almond milk

Mix the almond milk and Splenda until it is a glaze consistency

Use a spoon to drizzle the glaze onto the cake
Servings: 12
Preparation Time: 20 minutes
Cooking Time: 40 minutes
Total Time: 1 hour
Nutrition Facts
Serving size: 1/12 of a recipe (2.6 ounces).


This is a guest post by Mike Metzger (@Muscle_Chef on Instagram).